MORINGA
Nourisher | Beautician | Humanitarian
Native to the Himalayan Mountains, Moringa oleifera is nature's "miracle tree".
It's packed with 90+ verifiable, cell-ready vitamins, minerals, vital proteins, antioxidants, omega oils, and other benefits.
To ensure the highest quality possible, all of Zija's Moringa trees are grown on proprietary farms in hot, dry climates. They are raised without chemicals, harvested carefully by hand, and then shade dried, ensuring that essential nutrients remain intact. We use all of the most beneficial parts of the tree—the leaves, the seeds and the fruit—in our unique line of products.
(Click image to enlarge and open in New tab.)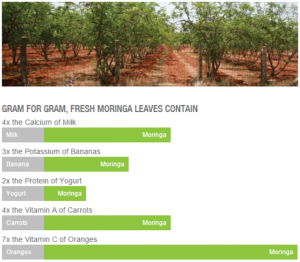 The link below offers several short videos about Moringa, Zija, and some of the available products.
http://1amazingtree.com/
Zija is leading the Natural Health Revolution to support an Active Lifestyle, Personal Development, and Financial & Time Freedom.
The products are designed to:
Naturally Nourish
Naturally Enhance
Naturally Condition
Naturally Restore
Currently, Zija is experiencing a Second Wave of growth. 
Have you ever wished you had been at the start of Microsoft or Google?
This is like one of those moments in history.
In addition to the Core Nutritional products, Zija offers 3 other product lines:
* Améo CERTI-5 Certified Clinical Grade Essential Oils
* Ripstix Fitness Supplements
* GenM Personal Care
Recently, Zija launched a new CBD Adhesive Square. It provides balanced, sustained delivery of a full-spectrum CBD Oil for 24-hours.
No more bad taste and frequent re-dosing  that is common with oral CBD Oil. Just stick it on and forget it.
For more details about this product and general CBD benefits, visit this site for videos and FAQs.
http://1amazingsquare.com 
Discover the Zija Difference by visiting: (the sites work best in Chrome browser)
http://MiracleTreeProducts.com
Explore the complete line of Zija products by clicking HERE.
Please contact me before you order products to setup a free consultation so you get the products that will work best for you.
My contact info is at the top of the "Miracle Tree Products" Web sites or use the Contact page on this site.
Check out the Zija Rewards Premium subscription program. You get lots of great benefits such as FREE shipping on most orders. And you get rewards points for each order. Those points can be used to get Free products. Everyone likes Free stuff.
Thank you for your interest.
Bruce