MORINGA aka "The Miracle Tree"
Nourisher | Beautician | Humanitarian
Native to the Himalayan Mountains, Moringa oleifera is nature's "miracle tree".
It's packed with 90+ verifiable, cell-ready vitamins, minerals, vital proteins, antioxidants, omega oils, and other benefits.
To ensure the highest quality possible, all of our Moringa trees are grown on proprietary farms in hot, dry climates. They are raised without chemicals, harvested carefully by hand, and then shade dried, ensuring that essential nutrients remain intact. We use all of the most beneficial parts of the tree—the leaves, the seeds, and the fruit—in our unique line of products.
(Click image to enlarge and open in a New tab.)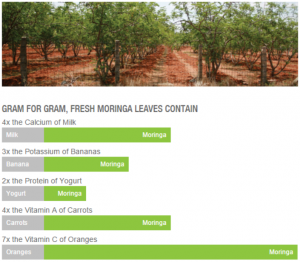 Zija International created a powerful drink using the Moringa formula described above. Isagenix recently bought Zija and the combination of products from these 2 companies unmatched in the industry. Isagenix is leading the Natural Health Revolution to support an Active Lifestyle, Personal Development, and Financial & Time Freedom.
Currently, we are experiencing the Second Wave of growth. Have you ever wished you had been at the start of Microsoft or Google?
This is like one of those moments in history.
In addition to Moringa nutritional products, Isagenix also offers:
Nutritional & Meal Replacement
Fitness supplements

Essential Oils

A unique intermittent fasting program that is supported with proper nutrients.
Learn more about some of my favorite Isagenix products by clicking here.
Feel free to use the Contact form on this Website to set up a free consult.
Thank you for your interest.
Bruce